Could My Idea Become Law?

Yes, absolutely! Just ask Lauren Cunningham of Lexington, South Carolina. As a third-grader, Lauren started a one-girl campaign to have indigo blue designated as the official color of our State. In April of 2008 she succeeded and her idea became state law!
Lauren was looking through a South Carolina State Symbols book when she realized there was no State Color. Lauren started her campaign by writing to her State Senator, Ronnie Cromer of District 18, who represents Lexington, Newberry and Saluda counties.
About two weeks later, Lauren received a response from Senator Cromer that he would be introducing a bill to carry out her request. Senate Bill 1033 was introduced and given a first reading in the Senate on January 29, 2008. The bill was referred to the Senate Judiciary Committee and assigned to a Subcommittee for review and approval before making its way to the floor of the Senate for approval by all members of the Senate. On Tuesday, March 11, Lauren attended the Senate Judiciary Committee meeting and watched as her bill was discussed by the Committee. On Wednesday, March 12, the Senate Judiciary Committee reported S. 1033 as favorable.
S. 1033 was given a second reading on the floor of the Senate on Thursday, March 13. The following Tuesday, March 18, the bill was given the third and final reading in the Senate. After being passed by the Senate, the bill was sent to the House of Representatives. In addition to attending Subcommittee and Committee meetings, Lauren was recognized on the floor of the Senate for her accomplishment.
Once S. 1033 was passed by the Senate, it needed to go through the same process in the House of Representatives. On Tuesday, March 25, the bill was introduced and read the first time in the House of Representatives. It was referred to the House Invitations and Memorial Resolutions Committee. S. 1033 was reported out of committee as favorable on Tuesday, April 1. The bill was given a second reading on the floor of the House on April 2. On April 3 it received the third and final reading by the House. Once a bill has been given three readings in both the House and Senate and passed, it is enrolled for ratification and sent to the Governor for his signature. At this time the bill is assigned an additional number known as a ratification number. S. 1033 was enrolled and given Ratification Number 229.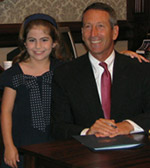 Governor Mark Sanford signed S. 1033, R229 on Wednesday, April 16, 2008. Finally, Lauren's idea had become law! After the Governor signs a bill, it is given yet a third number, known as an Act Number. Lauren's idea became enacted legislation and was assigned Act Number 200.
Lauren Cunningham is a shining example of how one student can make their voice heard and truly make a difference in our State.