Could My Idea Become Law?

Mary Grace Wingard of Lexington was inspired after taking a trip to the State House with her third grade class from Rocky Creek Elementary School. There she met Governor Nikki Haley who told the class to get excited and get involved in government. Mary Grace took that message to heart and decided to work to make collards the official state vegetable of South Carolina.
Why collards you may ask? Mary Grace's class was studying South Carolina history, which included the state symbols and how laws are passed. Mary Grace has grown up in a farming family; her family runs Walter P. Rawl and Sons, Inc. in Lexington County, one of the leading producers of collard greens in our state. Seeing South Carolina had no official state vegetable, collards seemed like a logical choice. But Mary Grace didn't just rely on first-hand knowledge. With the help and support of her teacher, Mandy Derrick, she researched her idea and came up with several reasons collards should become the official state vegetable.
Through her research Mary Grace learned that South Carolina ranks second in collard production in the United States. That is the highest ranking of any vegetable grown here. Other facts Mary Grace discovered: Collards are grown in every county of South Carolina and can be grown year round. Collards are healthy and packed with nutrition. Collards are a New Year's tradition and have been a traditional Southern food since the 1700's.
Mary Grace began her efforts in April 2011 by writing a letter to State Senator Jake Knotts of Lexington County, asking for his help to make collards the state vegetable. Senator Knotts immediately got on board and worked with Mary Grace to get a bill introduced in the State Senate. On April 14, 2011 Senate Bill 823 was introduced, given a first reading in the Senate and referred to the Senate Judiciary Committee. The Committee reported S. 823 as favorable on April 20 and six days later on April 26, it was given a second reading by the Senate. Mary Grace attended the Senate session that day and was recognized on the Senate floor by Senator Knotts. On this same day Mary Grace hand delivered a note to Governor Haley, asking for her support on the bill. The note included a photograph taken of the two of them on the day of her class' field trip to the State House. On the photo she wrote: "Remember me? Mary Grace Wingard."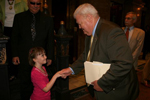 On April 27 S. 823 was given a final reading on the Senate floor and sent to the House of Representatives, where it was introduced and read for the first time. Now the bill had to go through the same process in the House as it had in the Senate. S. 823 was referred to the House Agriculture, Natural Resources and Environmental Affairs Committee. Things did not go as smoothly in the House as they had in the Senate and Mary Grace had to really work to have her voice heard. The bill stayed in Committee for a while so Mary Grace called and asked to come to the next Committee meeting to speak about her bill. Unfortunately, the meeting was cancelled just a few hours before Mary Grace was to make her presentation. She was disappointed but she didn't give up. She wrote a letter to the Legislators offering more research to back up her idea and asking for their help to get her bill passed. Finally, the Committee reported the bill favorable on May 24. Mary Grace decided to come to the State House on the day the House was to debate the bill. To be there she had to miss Field Day at her school, a big sacrifice for a third grader. She greeted lawmakers in person that day, shaking their hands and asking for their support of her bill. When Mary Grace was introduced on the House floor that day and her letter was displayed on a big screen at the front of the House Chamber, the Representatives began to take the bill seriously and gave it a second reading. The bill received a final reading in the House on May 27. After a bill is given three readings in both the Senate and House of Representatives, it is enrolled for ratification, assigned a ratification number and sent to the Governor to be signed. S. 823 was given Ratification number 69.
Governor Haley signed S. 823, R69 into law on June 2, 2011. The signing took place at Rocky Creek Elementary with Mary Grace and her classmates in attendance. Mary Grace got to see her idea become law in person! The bill was then given Act Number 38 and became enacted legislation.
Mary Grace Wingard is proof that if you get involved and work hard, you can make a difference. Her advice: "Don't expect it to be easy. Be prepared to work. If you have an idea, believe in it. Do your research and give legislators good reasons to support your bill. Start early in the year. This process takes time."

Read Mary Grace's letters to lawmakers to see how she lobbied to make her idea become law!